Get Offers From the Best Hotels in Cocoa Beach and Cape Canaveral
The best hotel deals in the Cocoa Beach and Port Canaveral all in one place!
Cocoa Beach is the perfect area to visit having the closest beaches to Orlando, and being seconds from Port Canaveral and all the cruise ships. Here are twenty of Cocoa Beach's best hotels who are always offering deals that you absolutely need to see before scheduling your beach getaway!
There are many hotels and other types of accommodations in Cocoa Beach, ranging from budget-friendly motels to luxury resorts. You can find a variety of hotel offers in Cocoa Beach by searching our website or contacting our hotels directly. Some things you might consider when looking for hotel deals in Cocoa Beach include the location of the hotel, the amenities it offers, and the overall cost. It's also a good idea to compare prices and read reviews from other travelers to find the best deal for you.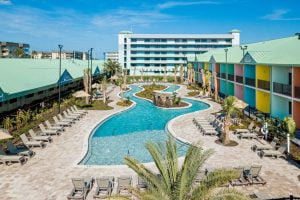 Hotel Deals from Beachside Hotel And Suites Check Availability Learn More Save big with our cruise packages & specials We're always adding exciting offers and
See Deals »
Cocoa Beach Hotel Deals That Make Your Life Easier
If you're planning a visit to Cocoa Beach, finding the best hotel deal can be a challenge. But look no further than Legendary Cocoa Beach! As an association of 20 hotels, we offer a wide range of discounts and promotions to make your stay in Cocoa Beach both enjoyable and affordable.
One of our most popular deals is the "snooze and cruise" package, which includes a one-night stay at one of our hotels and round-trip transportation to the nearby Port Canaveral for your cruise. Our hotels located just a minute away from the port, make it easy for you to catch your ship without worrying about transportation logistics.
We also offer special discounts for veterans and AARP members, as well as long-stay discounts for those who plan on staying in Cocoa Beach for an extended period of time.
But what really sets us apart is our selection of oceanfront hotels. Many of our hotels have direct ocean views, offering breathtaking sunrises and sunsets. Imagine waking up to the sound of the waves and the salty smell of the sea every morning!
Snooze N Cruise Hotel Packages
Hotels that offer Snooze N Cruise or also known as Park and Go packages are: 
Launch into your cruise vacation when you stay on the Space Coast. Cruising out of Port Canaveral on Florida's Space Coast is an exciting experience for the whole family. With plenty of places to stay, things to do, and incredible food to eat, your stay on the Space Coast can be just as memorable as your time on the ship. Check out all the fun and exciting family-friendly activities you can get into before you set sail on the cruise of a lifetime!
Snooze'n'Cruise is all about making your cruise getaway as easy as possible. Check out one of these Port Canaveral/Cocoa Beach Area hotels that offer shuttle service to and from MCO, MLB, and to Port Canaveral on the day of your cruise. Make sure you mention shuttle service while you're booking your stay to ensure the shuttles are up and running.
Looking for additional shuttle services? Check out Go Port's extensive list of transportation and parking resources.
These are just a few of the incredible hotels that offer Snooze'n'Cruise packages. Make sure to check out all the Legendary Cocoa Beach Hotels so you can find the best accommodations for your cruise crew.
After checking into the hotel, head out to explore Port Canaveral, one of the busiest and most exciting ports in the world.  See your ship and start to get excited about the cruise, rocket parts, and wildlife like dolphins and sea turtles make their way through the water while you enjoy delicious meals and drinks. Some popular options are:
The Exploration Tower is an unmissable landmark in Port Canaveral. It's more than just a cool building. It's a Space Coast museum on floors 2-6 and an observation deck on the 7th floor offers an amazing panoramic view of the area, including the beach, Jetty park, and the Kennedy Space Complex. What's on the 1st floor? A gift shop of course, with tons of cool souvenirs to remember your time on the Space Coast. Exploring Port Canaveral is the perfect way for your family to unwind from your drive and gear up for your cruise.
If you're looking for a good old-fashioned beach day before you hit the high seas, check out these nearby beaches with convenient parking, access to beach rentals, and more!
So whether it's snoozing, cruising, or hitting the beach, Florida's Space Coast welcomes you.
If you are a AAA (American Automobile Association) or CAA (Canadian Automobile Association) member, many of the hotels associated with Legendary Cocoa Beach offer a 10% discount off the already best available rates!
Many of our associated hotels are offering exclusive savings for active & retired military, veterans and their families on leisure stays at participating hotels. So relax, unwind and put your feet up —you've earned it.
AARP (American Association of Retired Persons) members can expect to get a 10% discount on many of the associated hotel's best available.
Some of our participating hotels offer up to 20% off when you stay three nights or longer, if you are planning on a longer stay, do not miss this discount which can add up to BIG savings.