It is estimated that around 122.4 million people visit the Sunshine State every year. You might be wondering why so many people spend money and time traveling to this popular destination spot. Florida is a great place to gather on beaches, theme parks, recreation facilities, and various adventures.
Cocoa Beach and Cocoa are two neighboring communities that are separated by the Banana River. Tourists enjoy visiting for the beauty of Mother Nature, as there are almost no skyscrapers, traffic-filled roads, or busy hustle and bustle. Something you might not think of when you are visiting Florida.
Cocoa Beach is an ideal place to experience an amazing vacation full of cultural, technological, and culinary surprises. If you are looking for things to do in Cocoa Beach, keep reading about the many activities that you can do to fill your time.
Things To Do In Cocoa Beach
Just south of Cape Canaveral Air Force Station is Cocoa beach, a beautiful Florida city. Only a short one-hour drive from Orlando, you can find some of the best things to consider adding to your list of vacation planning.
It's also one of the more affordable spots to vacation in Florida, and you can still wake up to the extraordinary sunset on the beach. Here are things you should do in Cocoa Beach:
Beach Day
As you might expect when visiting Florida, you have access to the water. Cocoa Beach gives 72 miles of shoreline that consists of excellent sandy areas. Fun in the sun can be draining which is why it's great that Cocoa Beach has many different parks with convenient amenities.
A popular beach spot is next to the Cocoa Beach Pier where the beach is full of lifeguards, surfers, and beach volleyball. This is an ideal chill spot if you are traveling with a group of friends looking for some fun activities.
Further up the pier, there is Lori Wilson Park which also has beach access and free parking. This huge park has some great amenities that can't be passed up like a boardwalk, dog park, and nice restrooms. If you are with your family another great park option is Alan Shepard Park which has picnic tables, and baby changing rooms and is close to shopping and food.
If you are looking for more awe-inspiring nature moments you should check out The Playalinda Beach at Canaveral National Seashore. You can explore the natural dunes, lagoon, and marshes which give ample space to find a section all to yourself.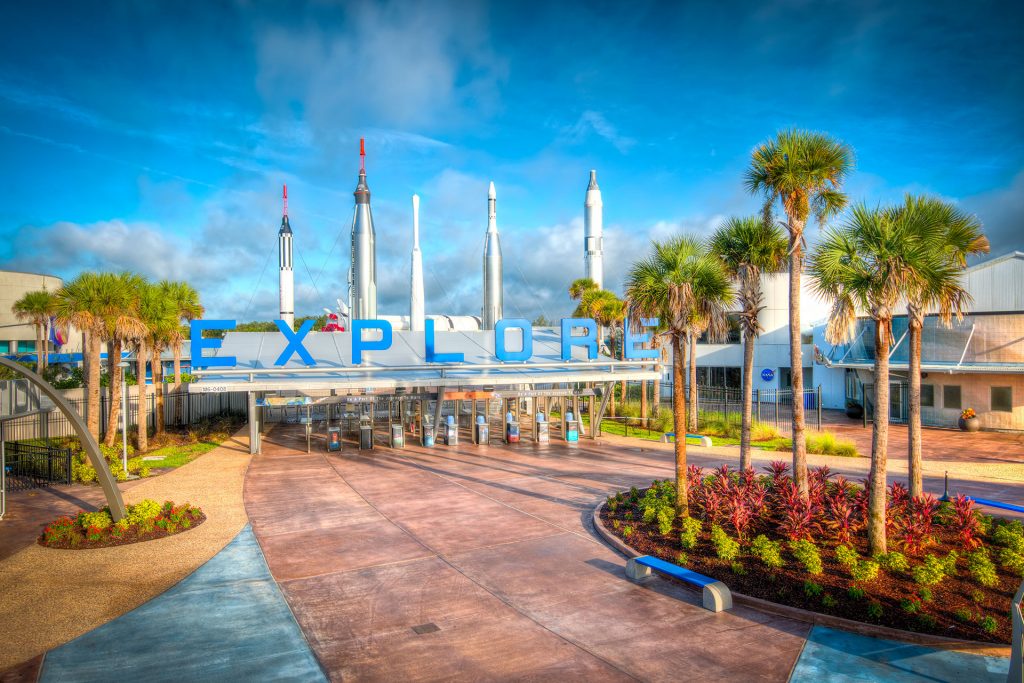 The Kennedy Space Center
This must-visit attraction is filled with historical information, memorials, and human tragedy. It was here that the first Americans shot into space to orbit the earth and land on the moon. You can follow the story of humankind's journey into space and experience the space race through interactive attractions.
You can enjoy looking at historical aircraft and rockets, artifacts, and the chance to meet a real-life astronaut. For the young ones or space enthusiasts, there are even astronaut training experiences available. NASA still launches rockets and The Space Center has other events like scavenger hunts and space-themed activities to participate in.
Take A Hike
Outdoor enthusiasts love to adventure out into the unique ecosystems in the Ritch Grissom Memorial Wetlands or Merritt Island National Wildlife Refuge. There are over 50 trails that can be hiked or biked. Remember to look up so you can see the many different species of birds that flock to the state.
Historic Cocoa Village
The downtown village was settled in the 19th century and still has its heritage and historical ambiance. It continues to be a great tourist attraction in the 21st century with its shopping and entertainment options. There are truly gourmet dining experiences with many options from five-star restaurants, casual eateries, and cafes.
If you are a history lover you should make time to visit the Florida Historical Society. You can learn about Florida's rich history and discover the wonders of the state. Enjoy the ease of free parking in downtown Cocoa Village just behind the local shops.
Cocoa Beach Pier
If you want to walk on water this is a great way to do so. The legendary pier has performers, gift shops, restaurants, and even local bands. You can walk across and enjoy watching local surfers catch some of the best waves on the East Coast.
If you want to join in on the action you can rent beach rentals, fishing, or surfing gear right on the beach. While you fish feel free to drop your kids off at the arcade so everyone is satisfied.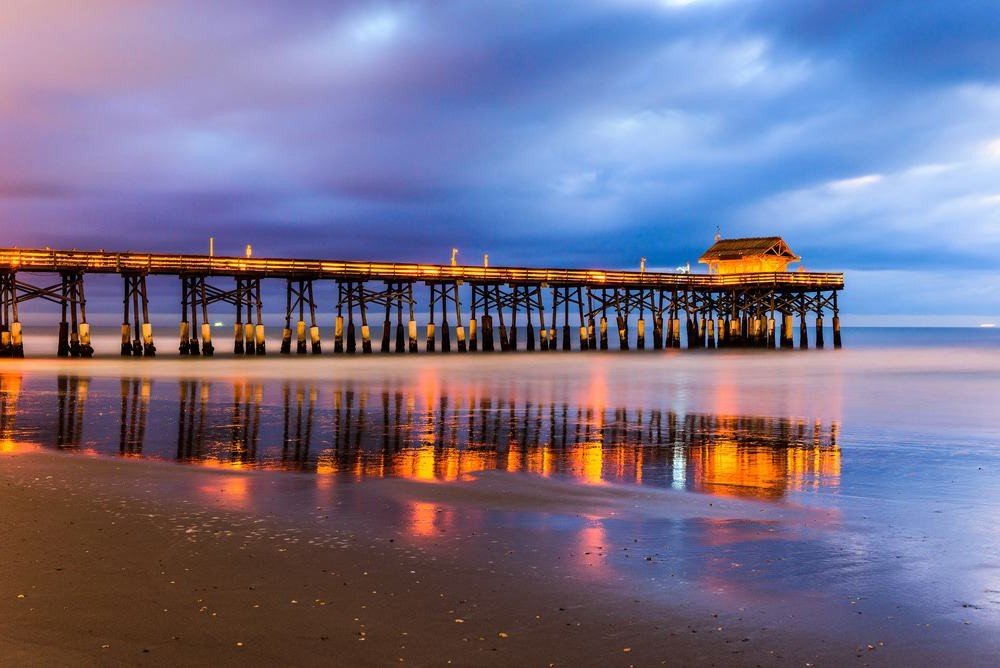 Try Out An Escape Room Adventure
Turning a game into a real-life experience will give you a memorable time on vacation. Escape rooms are great for people in small groups, families, or couples. Have fun solving puzzles, deciphering codes, and trying to exit the room in one piece.
Escape Room Cocoa Beach was rated one of the best things to do in Cocoa Beach so you can be sure to have a good time. Feel free to also try out Epic Escapes which offers 3 challenging escape rooms in Cocoa Village.
Go To A Broadway Show
Located in Cocoa Village mentioned above, The Playhouse is one of the oldest theatres and buildings in the city. If you enjoy musicals this is a must-see. It seats more than 55,000 viewers and has a regular roster of broadway performances that makes it one of the most successful theatres in Florida.
There are more than just broadway performances though. You can attend children's programming, movie screenings, and concerts or tributes.
Brevard Zoo
Only a short 25-minute drive from the beach is Brevard Zoo, a place for interactive learning and great fun for the family. This zoo offers animals and species from all over the world as well as those native to the Florida area.
The Paws On Play section will show you creepy critters from various places. Take a trip to the continent of Africa and see all the diverse animals that will make you feel like you are on a safari ride. Even better is the Australia section which offers other experiences like kayaking, and zip-lining over the zoo!
Where To Shop
Many people enjoy shopping while on vacation because the items you buy come with a tangible memory of the place you were in. If you have it on display or even if it's a souvenir keychain you will always have a piece of that place with you. Here are some great places to do some fun shopping in Cocoa Beach:
Treant Art Gallery
This is a small and quaint place but worth the stop. There are unique paintings to look at and there is even a 3D section that requires glasses.
The Florida Key Lime Pie Company
This shop is filled with tropical colors and ocean vibes. they have cute themed trinkets and fun souvenirs.
Their delicious snacks include key lime beers, key lime pies, key lime candy, and so many more key lime items. A must-try when you stop by is the locally made smokey Gator Jerky and Python Jerky.
Mar Chiquita
This little boutique sells cute clothes, hats, beach wear, and jewelry. It also has a few really cute at-home decorations that are beach themed and can fit in your suitcase.
Everything Shells
Perfect for the people who love to bring back souvenirs, Everything Shells has over 400 different types of ocean shells from all over the world. This shop is super affordable for all of its items.
Bealls Outlet
If you are looking for more traditional shopping outlets this one will fit your needs. There is a huge variety of brand-name styles and different department styles.
Hatchet Throwing
Hatchet throwing is becoming a very trendy attraction for groups looking to have fun. Stumpy's Hatchet House is good for a normal day of fun or celebrations. Prices range at around $35 a person depending on the day.
Brevard Museum of History and Sciences
If you are already planning on visiting Brevard Zoo, this is the perfect addition to your day. It features artifacts and exhibits that connect with Florida's local history and science. You can even find Windover Woman, which is the remains of the oldest human discovered in North America.
This museum offers many little attractions like marked trails around the wetlands and a beautiful butterfly garden for insect lovers. Make sure to check out the exhibits that detail the lives of Native Americans and early settlers for a trip down history lane.
Cocoa Beach Gold Course
There is nothing quite like the feeling of teeing off at a new golf course while on vacation. Cocoa Beach offers top-notch courses with grassy dunes and difficult holes. With courses that have dozens of sand bunkers, shots over water, and uneven lies, this is a challenge for all golfers but worth the experience.
Take a Day Trip To Orlando
It only takes an hour to drive from Cocoa Beach to Orlando. Orlando has theme parks people dream of seeing. Here are some of the attractions to think about in the city:
The Wizarding World of Harry Potter
Wald Disney World
Magic Kingdom Park
SeaWorld Orlando
Universal's Island of Adventure
Epcot
If you are traveling far from Florida you might want to build this into your vacation so you don't miss out.
Kayaking Tours
A tour you will be sure to enjoy is the guided kayak tour to see the 2,000-pound manatees. You will go through the Thousand Islands or Indian River Lagoon and see fearless creatures swim right to you.
Although it's not just manatees you will see. You will likely cross paths with dolphins, migratory birds, and lots of other species native to the Florida ecosystem. Simply show up and you will be given a quick lesson along with all of the essential gear you need to have fun.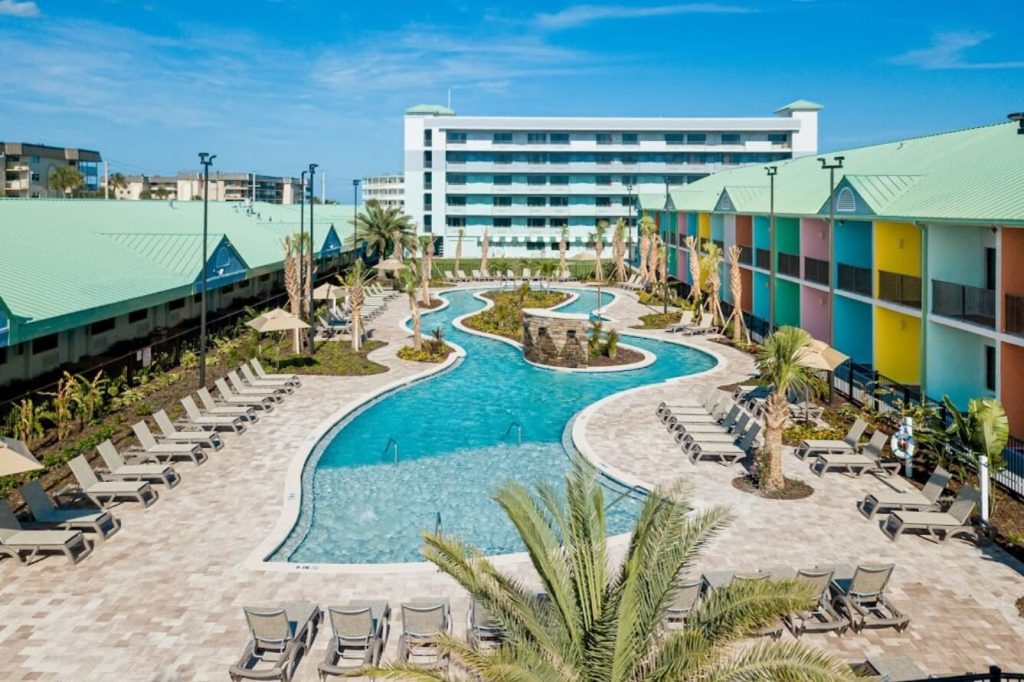 Where To Stay
There is no shortage of beautiful hotels here. You have a full range of selections from upscale luxury hotels to more budget-friendly options.
Do some research depending on what attractions you are planning to do so that you can find a hotel nearby to reduce travel time. Here are some of the best Cocoa Beach hotels:
Hampton Inn Cocoa Beach- Cape Canaveral
Hilton Cocoa Beach Oceanfront
Beachside Hotel and Suites Cocoa Beach
Sheraton Four Points Cocoa Beach
Days Inn by Wyndham Cocoa Beach
Best Western Cocoa Beach
Cape Crossings Resort and Marina
Holiday Inn Express Cocoa Beach
Museum of Dinosaurs & Ancient Culture
For those Jurassic Park fans, the Museum of Dinosaurs is a popular attraction. You can get a tour of prehistoric creatures that roamed the earth well before our time here. There are great picture moments with the 46-foot giganotosaurus, ancient Egyptians, King Tut, and live reptiles.
Ride On an Airboat
Many people have dreamed about taking the captivating everglade airboat tours in Florida. They are a great way to see the rich wildlife full of turtles, alligators, and otters. You will also have a blast being whizzed around on top of the water.
In Cocoa, you can experience the fun of airboats along the Saint John's River and Lake Poinsett. Twister Airboat rides have different tours and you can expect to see rare species and have time to take pictures along the way. Tours start at $30 for adults and $20 for children 12 or younger.
Take a Cruise
Cruises can add to the value and fun of a vacation. They are really easy to plan at affordable prices. They offer a variety of different activities onboard like theme nights and games. Not to mention you can make stops at multiple destinations, and cut out the traveling time in between locations.
On cruises, the cost is all-inclusive so you can be brave enough to try any type of cuisine you want. This is an activity that is great for single couples, families, and friends. Here are the cruise lines that we recommend:
Disney Cruise Line
Norwegian Cruise Lines in Port Canaveral
Victory Cruise Casino at Port Canaveral
Carnival Cruise Port Canaveral
Royal Caribbean Port Canaveral
Cocoa Beach Aerial Adventures
This is a great day trip for those avid adrenaline seekers. All ages are welcome to bring anyone in the family. The aerial park lets you suspend in the air in a path made of live oak trees.
It has unique challenges and different trails that are separated in difficulty. There is a zipline and lots of other fun challenges to explore.
Watch a Comedy Show
Cocoa Beach has a well-known place to go and enjoy a great comedy show at affordable prices. Gregory's Upstairs Comedy Club is women-owned and operated and has been in business for over 29 years. Because it is only open on Friday and Saturday, you should be sure to plan and book a show online to reserve a spot.
Find Great Food & Drinks
There's nothing more enjoyable about going on vacation than visiting some great restaurants. Getting a bomb meal can be just as much of an experience as sightseeing. Food can connect you to the culture and traditions of other people.
When planning a trip to Cocoa beach you have lots of options. Here are some of the best places to eat that you won't want to miss:
Ice Cream Hut In Cocoa Beach
If you have a sweet tooth this is the perfect place for you. Enjoy sweets like milkshakes, shaved ice, and simple vanilla cones. You can even get sugar and dairy-free options.
Cocoa Beach Fish Camp Grill
Those who are looking for the perfect nautical restaurant this is the one for you. You can sip on moonshine right next to the beach and enjoy live music or entertainment.
Coconuts On The Beach
Here you will want to try their fresh coconut drinks while dining on the beach. The food is absolutely amazing and aesthetically pleasing.
Cocoa Beach Ale House
This sports bar and restaurant is just one mile away from the cruise port in Cape Canaveral. There is a full liquor bar, but a hit with the tourists is the 29-degree draft beer which is perfect to sip on while watching the waves.
Dolphins Waterfront Bar & Grill
A tradition that started over 60 years ago, this establishment makes great memories for both tourists and locals alike. There are waterfront views and it is the largest tiki bar on Florida's coast.
Squid Lips Overwater Grill
The cool thing about Squid Lips Overwater Grill is that you can reach the restaurant by boat and car. Pull on up after a day out on the water or in town.
As the name suggests there is a variety of seafood options available to enjoy which is freshly caught. Be sure to check out their happy hour for great deals.
Sandbar Sports Grill
A beachside bar and grill that will blow you away, don't worry, not literally. They often have live entertainment and a full menu that meets the needs of kids and adults.
Cocoa Beach Skate Park
The skate park is a great place for kids and families to spend a little fun time. It has two deep bowls and a half pipe. If you aren't a skater there is also a grass area with full bleachers so you can relax while the young ones have fun skating around.
321 Kiteboarding and Watersports
A truly unique attraction to visit is 321 Kiteboarding. They offer the equipment and locations for kiteboarding, stand-up paddle boarding, and kayaking. No matter the wind, you can always find something fun to do here.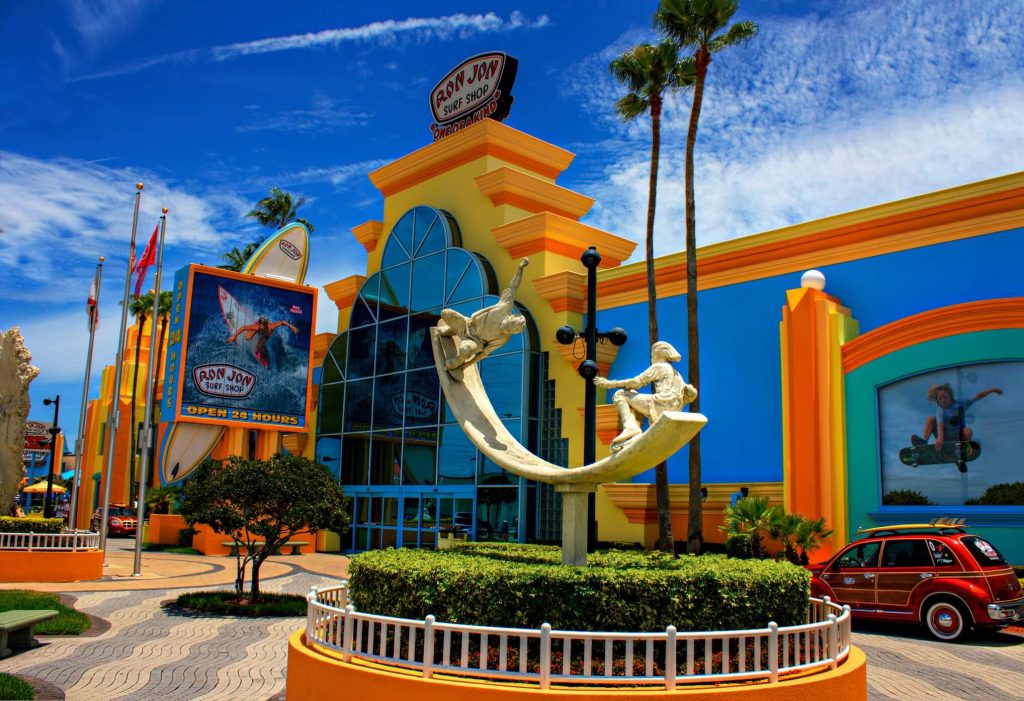 Ron Jon Surf Shop
If surfing is a part of your vacation planning, you need to check out The Ron Jon Surf Shop in Cocoa Beach. It is the world's largest surf shop and encompasses 52,000 square feet.
Open 24 hours, this shop will have anything you need from bikinis, surfing equipment, clothes, and more water sports gear. It also has huge fish tanks, elevators made out of glass, and waterfalls to look at if you don't enjoy shopping but someone in your group does.
Catch a Wave
After visiting the surf shop, you should check out the beach to do a little surfing. Cocoa Beach is known for its consistent waves and shallow water which makes it ideal for beginner surfers. You can take lessons at various locations in the town.
Renting gear might be a better option for those far travelers, but you can bring your own board too. Either way, be sure to catch a wave in one of the best places to surf in the state.
Drift House
The Drift House is a place where even locals hang out to pass time. It is always changing with attractions and events like movie nights, parties, entertainment, and even yoga. You can also shop and enjoy their minibar. Be sure to check out their page for local events.
Find Things To Do In Cocoa Beach Today
Finding things to do in Cocoa Beach can be really easy when you put a little research into it. There are so many different options for where to stay, where to eat, and for what you want to do. Cocoa Beach has it all for every type of person from an adrenaline junkie to the average tourist.
Start to plan your vacation to Cocoa Beach today. If you want more ideas about what to plan, or where to go look at our website for more you should know about Cocoa Beach.