Ocean Landings Resort And Racquet Club
in Cocoa Beach, FL
Escape from it all at Ocean Landings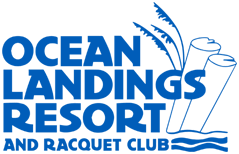 Welcome to
Ocean Landings Resort in Cocoa Beach
Are you ready to come and stay in style on the one and only beautiful Cocoa Beach, Florida? With a variety of accommodation options, you have your pick of incredible rooms where you can wake up to a beautiful view of the beach and soothing sounds of the ocean.
Come relax at Ocean Landings
They Say Location Is Everything
Well you're in luck because we are the closest beach to Orlando, which means we are an hour away from Disney, Universal, and Sea World! In addition we are very close to the Kennedy Space Center!
We are also conveniently located extremely close to Port Canaveral so if you're looking for a great place to stay before or after your cruise you're in luck!
Have a fun day on the beach and try your luck at local casinos
Where to find Ocean Landings Resort in Cocoa Beach
900 N Atlantic Ave, Cocoa Beach, FL 32931
There's Never A Dull Moment at Ocean Landings