Ocean Landings Resort And Racquet Club in Cocoa Beach FL
Escape from it all at Ocean Landings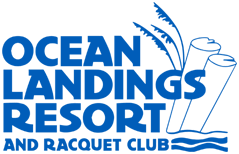 Welcome to
Ocean Landings Resort And Racquet Club in Cocoa Beach FL
Are you ready to come and stay in style on the one and only beautiful Cocoa Beach, Florida? With a variety of accommodation options, you have your pick of incredible rooms where you can wake up to a beautiful view of the beach and soothing sounds of the ocean.
Come relax at Ocean Landings
Location is everything, and it's easy when you're beachfront!
If you're looking for the perfect destination that combines the relaxation of a beachfront escape with the thrill of nearby world-famous attractions, Ocean Landings Resort And Racquet Club in Cocoa Beach FL is your ideal choice.
Proximity to Orlando's Top Attractions
The great news is that we are strategically positioned as the closest beach to Orlando, just an hour's drive away from the enchantment of Disney, the excitement of Universal, and the wonder of Sea World. Imagine spending your days basking in the sun and enjoying the serenity of the beach and your evenings immersed in the magic of Orlando's world-class theme parks.
A Glimpse of Space Exploration
But that's not all. We're not just close to the magic of Orlando; we're also conveniently situated near the Kennedy Space Center. For those with an insatiable curiosity for space exploration, our location allows you to embark on a journey of discovery and marvel at the wonders of the universe.
Seamless Cruise Getaways
Are you planning a cruise from Port Canaveral? Look no further! Ocean Landings Resort & Racquet Club is extremely close to Port Canaveral, making it the perfect place to stay before or after your cruise adventure. Ease into your vacation by spending a night with us, enjoying our resort's amenities, and then setting sail on your dream cruise from one of the busiest cruise ports in the world.
Your Perfect Vacation Awaits
Whether you're seeking theme park thrills, cosmic enlightenment, or a convenient pre or post-cruise stay, Ocean Landings Resort & Racquet Club offers the best of both worlds. Experience the allure of the beach and the allure of nearby attractions all in one remarkable destination. Your perfect vacation awaits at Ocean Landings Resort & Racquet Club.
Have a fun day on the beach and enjoy
Ocean Landings Accommodations
Where to find Ocean Landings Resort in Cocoa Beach
900 N Atlantic Ave, Cocoa Beach, FL 32931
There's Never A Dull Moment at Ocean Landings
For inquiries please contact us info@oceanlandings.com or call (800) 323-8413. Come stay at Ocean Landings Resort And Racquet Club in Cocoa Beach FL!