There are at least 189 official beaches spanning the 360-mile Florida coastline. However, a few of these beaches stand out from the rest, and one of those is Cocoa Beach.
If you are from Miami or visiting that area, you may want a break from this populated South Florida hot spot. Cocoa Beach offers tourists a small-town vibe without sacrificing entertainment. But just how far is Cocoa Beach from Miami?
Read on to find out the easiest way to travel and what to do when you get there.
Planning Your Trip to Cocoa Beach
Your Cocoa Beach vacation starts by making an itinerary. This includes answering some questions about your trip to Central Florida's coast. These questions help you make travel decisions, reserve accommodations, and plan any activities.
Here are a few questions to ask while preparing for your journey.
How Far is Cocoa Beach From Miami?
Traveling from Miami to Cocoa Beach only takes about 3 hours and is approximately 197 miles, depending on your route. However, the drive itself can take longer if you plan to sightsee.
You will pass through some other major coastal cities, like Fort Lauderdale, Boca Raton, West Palm Beach, and Port Sant Lucie, among many other smaller towns. You can stop along the way for brunch or a snack at some point. Port Salerno is the halfway point to switch drivings or just take a stretch.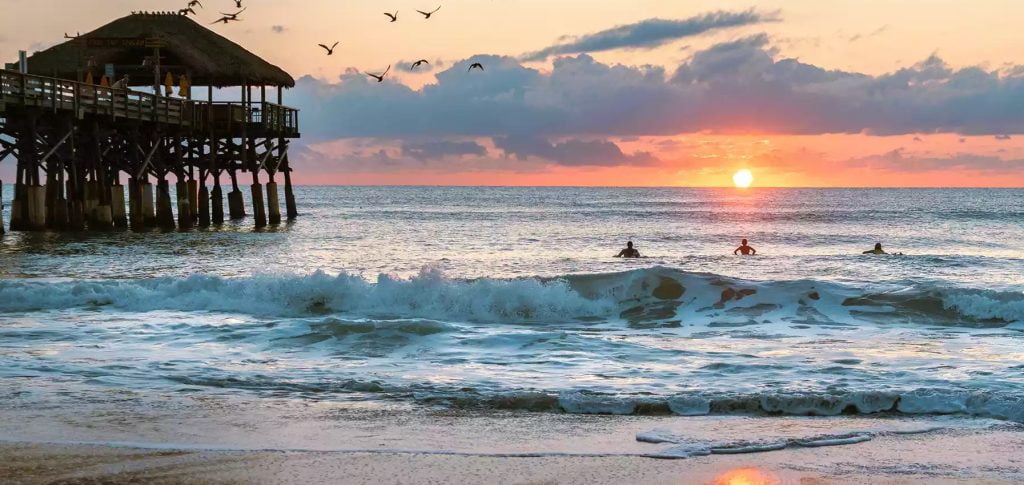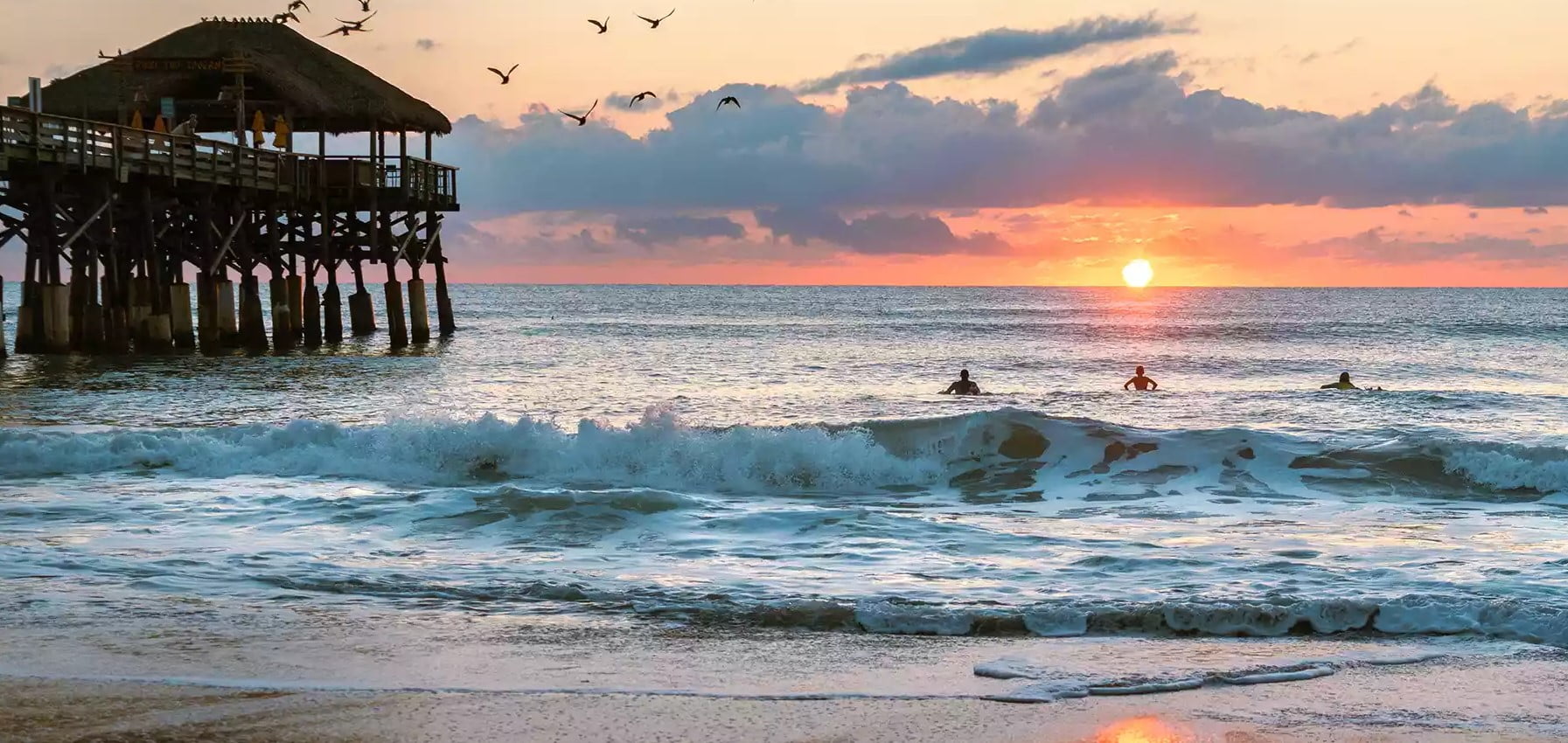 What is the Best Way to Get to Cocoa Beach?
Driving along the coast, ranges in scenic views and fast highways. Which route you choose depends on if you want to get there fast without stopping or if you plan to take your time and frequently stop along the way.
When driving from Miami, the fastest route is the Florida Turnpike which eventually connects back into interstate 95 (I-95). Be aware that this route has tolls.
You will first have to get onto I-95 and drive almost 2 miles to reach the turnpike. Once on the turnpike, you will stay here for 181 miles, which is about 2 hours and 36 minutes. The turnpike and I-95 converge after passing through Palm Beach at the 80-mile marker. Continue on I-95 until your reach route 404. This route takes you straight to Cocoa Beach in about 20 minutes or 14.4 miles.
An alternative route is to stay on I-95 the entire way instead of using the turnpike. This route is slightly longer at about 204 miles.
If you want to stop at a few beach towns and get the most scenic view then you could jump onto A1A coastal highway in Miami. You will need to go inland several times where the land ends, such as Fort Lauderdale and Fort Pierce. This route takes the longest since you will need to navigate beach traffic and traffic lights, plus you may will need to reroute a few times.
Flying to Cocoa Beach from Miami is much faster. You will get to Cocoa Beach in about an hour, but this doesn't include flight check-in and security screening times. Plus, Cocoa Beach doesn't have a domestic airport. You will land in Orlando and have to drive from there. The distance from the airport to the beach is approximately 50 miles, so this could take up to an hour.
Where to Stay in Cocoa Beach?
Before embarking on your journey, you should find a Cocoa Beach hotel and reserve it. Choose from an array of beachfront resorts, nearby villas, or cozy homestay rentals. There are options to fit any budget, family size, and length of stay.
The size of Cocoa Beach is only 4.66 square miles which allows you to stay just about anywhere and be near the beach and other attractions. However, its size also means there is limited space. So, reserve your hotel or rental well in advance to ensure you have a place to stay.
Time your drive or plane arrival to get to your room at check-in time. You will most likely leave Miami in the morning, but leave some time to sightseeing and enjoy the drive. Flights are easier to schedule. And, most major hotels have shuttles to and from the airport.
If you stay in a rental or smaller hotel then you need to arrange transportation, like renting a car.
What is there to Do in Cocoa Beach?
Traveling to Cocoa beach from Miami is worth it just for the relaxing beach atmosphere. The attractions are a bonus!
One of the most visited sites in Cocoa Beach is the Kennedy Space Center at Cape Canaveral. Here you can learn about the history of U.S. space programs led by Nasa, and if you plan it right, catch a real rocket launch.
There are other museums to visit, but you probably want to spend most of your time on the white-sanded beach. Check out a local seafood shack, take a surf lesson, or book a site seeing cruise of the area.
Next, visit the Cocoa Beach Pier and 800-foot boardwalk to browse iconic stores like the Ron Jon Surf Shop, the largest surf shop in the world.
Cocoa Beach offers the perfect balance for those who want a relaxing beach environment but who also want options to keep their brain and body active.
Getting Started With Your Cocoa Beach Vacation
The key to enjoying your journey to Cocoa Beach from Miami is savoring the ride and making sure you know where to stay and what to do once you get there. You also want to visit at the right time.
See our events page to know the best day to take your trip.